PDF Viewing was never so amazing!
Create PDF Viewers for your PDFs easily – as easy as doing nothing! Your PDF file links are already ready to popup viewer/flipbooks as soon as you activate the plugin.
This site has moved to https://dearflip.com/dearpdf-pdf-viewer-pdf-flipbook/
Read PDFs on your site
Supports traditional scrolling PDF viewer. Suits PDF files that are not consistent in page sizes, and have smaller texts. It's just as easy as adding a file link like below!
.
When PDFs are ALIVE!
Is your PDF a design showpiece? Then why not take to one level further? Realistic 3D flipbooks will help you present your PDF in a real 3D book!
Just turn on the realistic 3D flipbook mode and your documents are now alive as 3D PDF Flipbook!
* If your PDF has more than 7 page, flipbook gets a realistic 3D cover(Pro).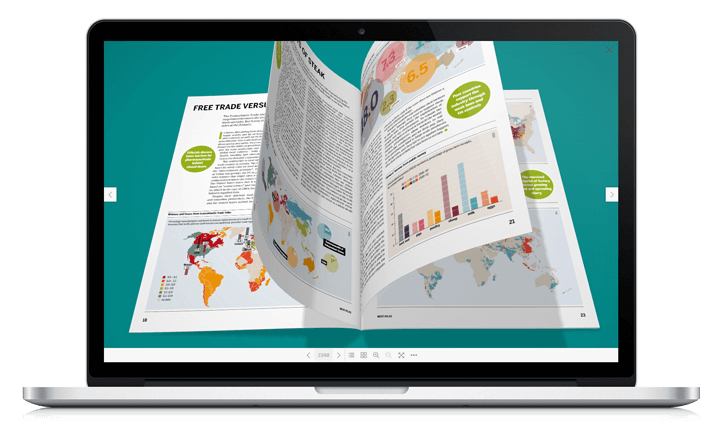 Simple and FAST!
Creating flipbooks are as easy as creating a WordPress post. Also, when you want simpler design, you can always use CSS based traditional flipbook. It's as fast as scroll reader yet still retains the flipbook effect.
Features
---
PDF Reader
DearPDF provides a default PDF viewer that is similar to your regular PDF reading experience. This keeps your journey into DearPDF smooth and helps you handle PDF like you used to.
3D PDF Flipbook
DearPDF inherits the 3D Flipbook solution from DearFlip and supports PDF flipbooks too. Your boring PDFs will be converted to real life like books automatically.
2D PDF Flipbook
3D Flipbook is widely supported by modern browsers. Yet some browsers and users may not prefer 3D mode, and that is covered by 2D PDF Flipbook mode.
Embedded Mode
Insert PDF viewer or PDF Flipbooks directly into your page. This is best suited when the whole page is related to the PDF.
Popup Mode
If you have multiple flipbooks/viewers to display in a page, then using popup solution works best. Lite version provide Button while Pro version adds thumb, link and custom popups.
PDF Outlines
PDF Table of content is auto detected and displayed in our PDF Viewer and PDF flipbooks. Helps the reader navigate through the PDF with ease.
PDF Links (Pro)
DearPDF displays the PDF links and annotations available inside the PDF. DearPDF also converts URL like text to link automatically like no other web reader.